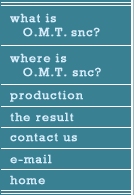 O.M.T. snc is specialized in the planning and realization of moulds for every kind of cold bucking of sheet steel. Borne in the 1989, present O.M.T. snc assures a high quality service together with the productive specifications adjustment.

The perfect precision and quality of the moulds is due to the synergetic combination of the innovative technology of the machine tools with the activity of the high-specialized technicians. In the planning of the product we use the CAD - CAM to start. Thereafter we realize them with sophisticated machine centre and a high precision E.D.M. Our work is totally completed only after the testing of the moulds and the production of the first prototype.


L'O.M.T. snc è specializzata nella progettazione e successiva costruzione di stampi per qualsiasi deformazione a freddo della lamiera. Nata nel 1989, O.M.T. snc oggi garantisce costanza quantitativa e l'adeguamento alle specifiche produttive.

L'ottima precisione e qualità degli stampi sono dati dalla combinazione sinergica di un'innovativa tecnologia delle macchine utensili e dell'attività di tecnici altamente specializzati. Per la progettazione del prodotto utilizza stazioni CAD-CAM per poi passare all'esecuzione con centri di lavoro ed impianti erosivi di massima precisione. Termina il lavoro con un collaudo e realizzazione di una preserie.
The productive cycle of O.M.T. snc is not a standard one but it is extremely customized, in other words we think that customers' needs are the subjects to be studied. The consideration of all the variable elements makes us able to get the suitable mould, according to the clients' specific requirements.

O.M.T. snc is then specialized in the production of medium - large size mould for sheet steel. Its range goes from the simple to the most complicated, progressive or transferred items, with very difficult automatism.
La produzione dell'O.M.T. snc non è standard, ma custom ovvero personalizzata e studiata a hoc in base ad ogni esigenza. La considerazione di tutte le variabili ci consente di realizzare lo stampo adatto, in considerazione delle richieste della clientela.

L'O.M.T. snc è dunque specializzata nella produzione di stampi per lamiera di medie - grandi dimensioni. La sua gamma spazia da semplici stampi a blocco a quelli più complessi, trasferizzati o progressivi con automatismi sofisticati.